Country Music Lovers Dance Your Weight Away!
The idea of working out is unrealistic to some people. Maybe that's why almost 80% of Americans don't get the recommended amount of exercise! The thought of going to the gym everyday – maybe before or after a long shift at work – can seem exhausting. Not to mention sort of boring to some people.
These are just some of the things that make the Country Heat dance workout so appealing. It's got some advantages over a gym membership: you can do the workouts from the comfort of your own home, they only take 30 minutes a day, it's just a one-time investment instead of an ongoing monthly fee, and it's fun. It's the ideal workout for busy people, people who hate working out, and especially country music fans!
Here's a full breakdown of Country Heat and everything you need to know about it.
Autumn Calabrese is the creator and trainer behind the Country Heat workout program. Autumn is pretty well-known and respected in the fitness world. She's a very talented celebrity fitness trainer. She is also the author of the wildly successful and best-selling fitness program "The 21 Day Fix," among other achievements. Her accomplishments and background really provide proof for how well Country Heat works.
The Country Heat dance workout is designed to get your heart pumping and your body moving, without the bad stress on your feet and legs that other, high-impact, workouts cause. The exercises in the Country Heat workout help you burn off excess fat and improve your overall fitness level. It's supposed to be a low-impact workout program with high-reward results, which is a very attractive fitness option for many people.
Country Heat also works for almost anyone. Men, women, beginners, and fitness buffs. Country Heat would help beginners to the workout world by providing them a way to get fit and in shape without getting overwhelmed, bored, or burned out. It could also help fitness buffs maintain the progress that they've already made with their workouts.
Although, if you're looking for a high-impact, hard, sweaty workout – you might not find that with the Country Heat program, even though Country Heat does give you high-impact results.
COUNTRY HEAT on AMAZON
What is included in Country Heat?
The Country Heat workout includes dances to 6 different songs, plus "bonus" workouts based on the kit you get, but we'll talk about those further below.
The songs in this workout program are from many popular country music artists including Keith Urban, Gretchen Wilson, Tim McGraw, Alan Jackson, and Luke Bryan.
Sampling of Playlist
Kick the Dust Up – Luke Bryan
Crash and Burn – Thomas Rhett
5 1 5 0 – Dierks Bently
Cowboy Up – Jill Johnson
Sideways – Dierks Bently
Play Something Country – Brooks & Dunn
Footloose – Blake Shelton Version
Little Bit of You – Chase Bryant
Chattahoochie – Alan Jackson
I Like It, I Love It – Tim Mcgraw
Cotton Eyed Joed – Rednex
Be My Baby – John Michael Montgomery
Born to Boogie – Hank Williams
One That Got Away – Jake Owen
Save a Horse Ride a Cowboy – Big & Rich
Friday Night – Eric Paisley
Crash and Burn – Thomas Rhett
Settlin – Sugarland
Redneck Woman – Gretchen Wilson
I Like It, I Love It – Tim Mcgraw
Kiss You in the Morning – Michael Ray
Summertime Blues – Alan Jackson
The Country Heat workout is available in 3 different packages: the Base Kit, the Base Kit with portion control containers and shaker cup, and the Deluxe Kit.
---
5 high energy dance workout and 1 dance conditioning

Country Heat Eating Plan
Quickstart Guide
30 Day Calendar
---
The Base Kit PLUS includes everything in the base kit, plus:
Autumn's portion control containers
Shakeology Shaker Cup
---
The Deluxe Kit includes everything in the other kits, plus:
2 Deluxe workouts and 2 move breakdowns
Another set of portion control containers and a large blue container
---
In case you have questions about what some of these things are, here's a breakdown, in Autumn Calabrese's own words!
Country Heat Eating Plan: "Losing weight has never been so simple. Or this delicious. My Eating Plan and recipes help you get lean fast, without starving or giving up favorite foods. Because when you fuel your body right, you look–and feel–amazing!"
Quickstart Guide: "I want you to jump right in and dance from Day One. This guide will show you exactly where to start—and what to do next."
30 Day Calendar: "I put all the workouts in just the right order to keep you in the groove and motivated, so the results keep coming. And there's tons of variety so you'll never get bored. Just follow the calendar, and you never have to guess which workout to do each day."
---
Portion Control Containers Breakdown:
1 Green container – Veggies

1 Purple container – Fruits

1 Red container – Proteins

1 Yellow container – Carbs

1 Blue container – Healthy Fats

2 Orange containers – Seeds & Dressings
COUNTRY HEAT on AMAZON
Country Heat Reviews & results!
Beachbody has more than 100,000 success stories, some of which come from people who have used Beachbody's Country Heat! Here are the results of 4 women who have used the program, from the Beachbody blog.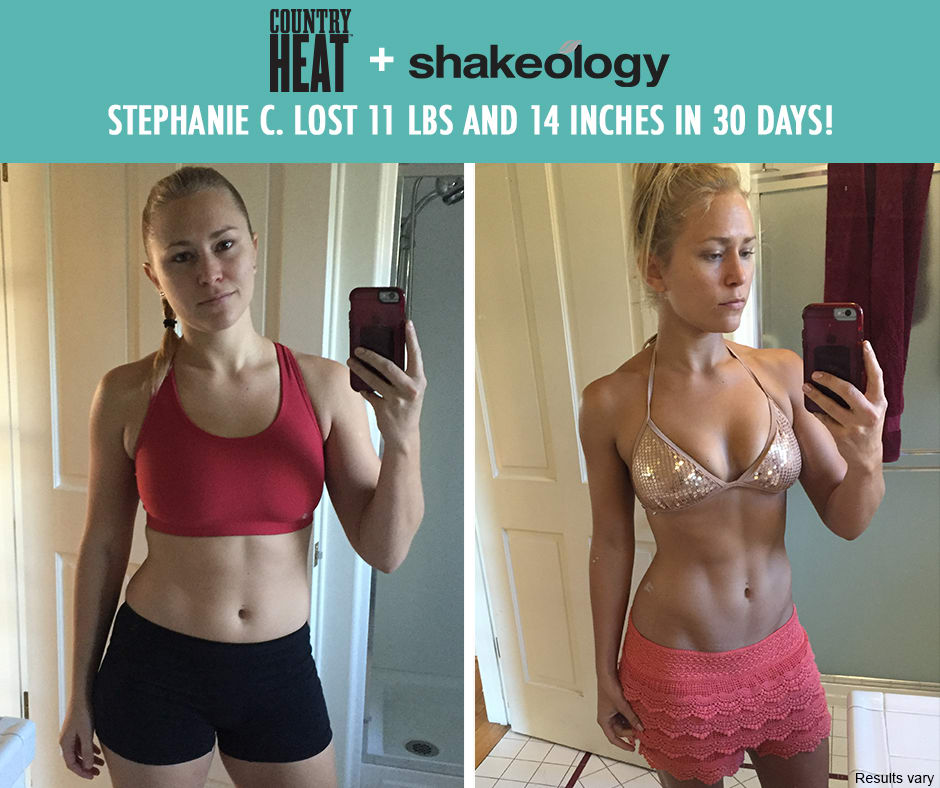 Stephanie C. lost 11 pounds and 14 inches in 30 days with Country Heat. Stephanie says that the biggest thing that helped her with this weight loss is the fact that the Country Heat workouts are fun, so she kept coming back for more!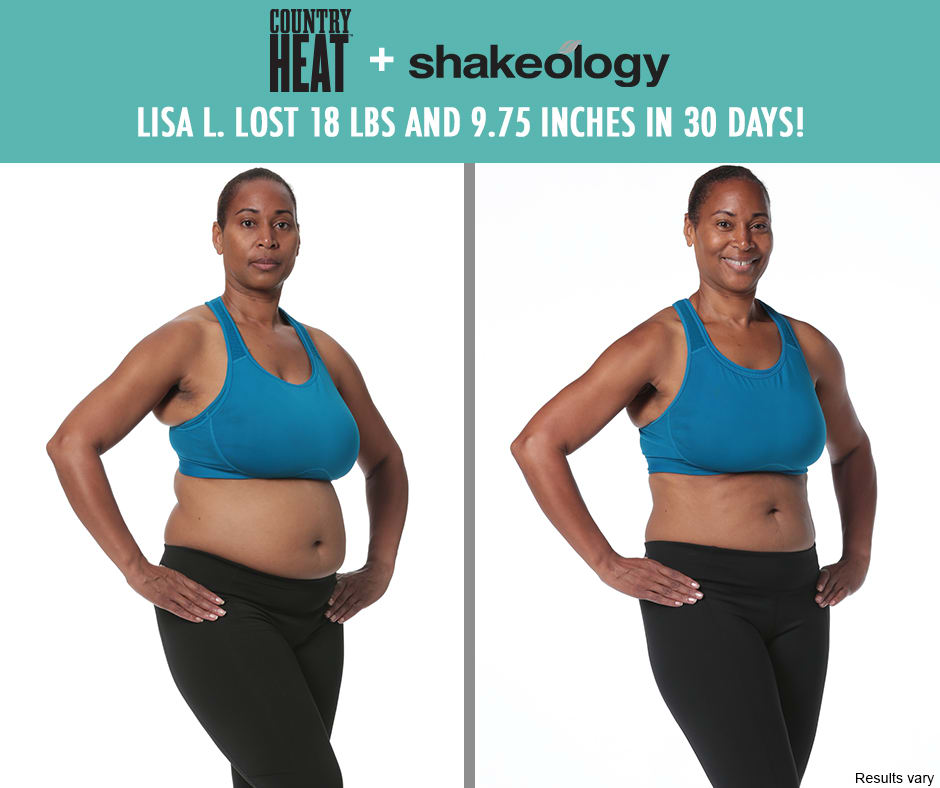 Lisa L. lost 18 pounds and 9.75 inches in 30 days with Country Heat. She also said that the biggest thing that helped her is the fact that the Country Heat workout helped her change her mindset about exercise because she had fun while doing it.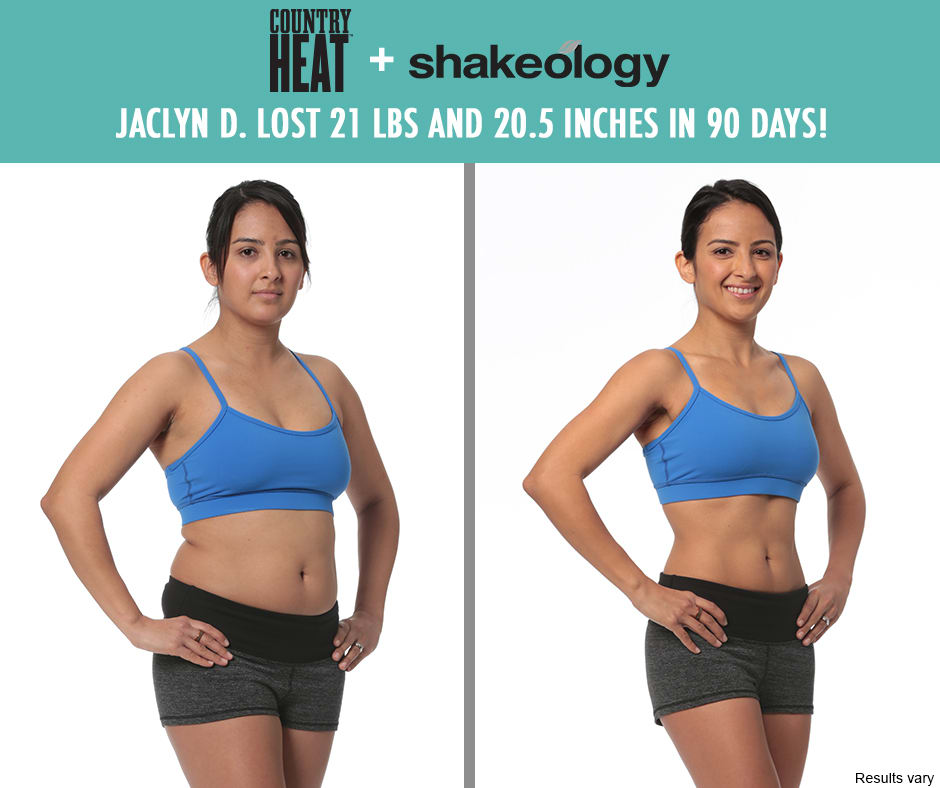 Jaclyn D. lost 21 pounds and 20.5 inches in 90 days of Country Heat. She loved the fact that the workouts were easy to follow and the music was fun to dance to. She says Country Heat helped her improve her confidence as well.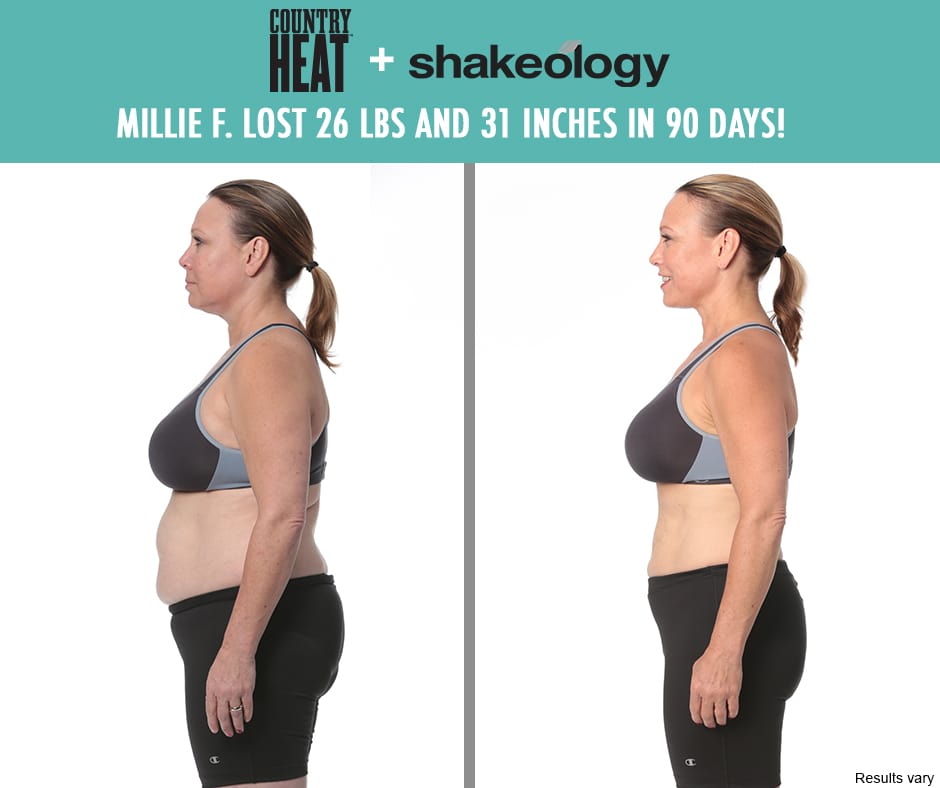 Millie F. lost 26 pounds and 31 inches in 90 days of Country Heat! She says that she loved how Autumn made the workouts fun and easy to follow along with. She also says that she recommends Country Heat to anyone!
These women's weight losses average out to 11 pounds a month, or 33 pounds in 90 days!*
*Results vary depending on starting point, goals, and effort.
Base Kit on AMAZON
Base Kit PLUS on AMAZON
Deluxe Kit on AMAZON
---
PIN COUNTRY HEAT
Or Pin These COUNTRY HEAT Pins!!
Save